School Visit Directions
Please read over the instructions and directions carefully and contact us before your visit if you have additional questions.
Please review the rules for accessing the PMA roof and telescope dome before your visit.
The tour will begin in room 13.132 of the Physics, Math and Astronomy Building (PMA) on the UT campus. PMA is located at 2515 Speedway (the southeast corner of Dean Keeton and Speedway - see map below). If you will be arriving via buses, disembark at PMA and have the buses park in the LBJ parking lot. If you will be in vans, please contact UT Parking and Transportation for information on the vehicle height clearance in the parking garages. If you will be arriving via personal cars, please park at the pay parking garages on Speedway (SWG) or San Jacinto (SJG) (see map below). There is also metered street parking along Dean Keeton, but availability may be limited at certain times of the year. Click here for parking garage information from UT Parking and Transportation.
Once you get to the building, take the elevators up to the 13th floor. Once you reach the 13th floor, go in the direction of the water fountain and bathrooms and proceed down the hall. 13.132 will be a little way down the hallway and on the left, just past the door with the sign for the Astronomy Department mailroom.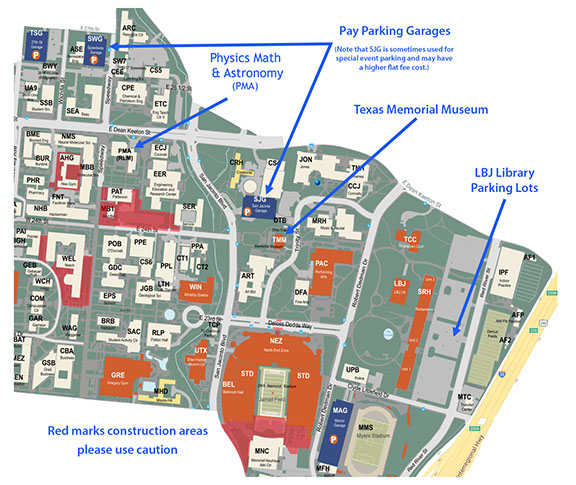 (Click for larger version)